BMI produces patient-specific BioDental models for implant dentistry. Our mandibular and maxillary biomodels help to increase implant placement precision and reduce chair time.
Our standard BioDental models are dual-color anatomical facsimiles. Bone is depicted in semi-translucent white acrylic, while teeth, the inferior alveolar nerve channel, and other features (screws, plates, etc.) are depicted in red. Other options available upon request.

BioDental Model Options:
Full inclusion of the zygoma, condyles, or other specified anatomical features
Gingival soft tissue models to simplify setup or for planning flapless surgery
Denture models
Tooth extraction or implant exclusion
Half arch and quarter arch models
Our BioDental models are generally produced as stereolithographic acrylic models. Additional model and dual color (clear-amber) epoxy material options are available. Please contact us to discuss model material and finishing options in greater detail.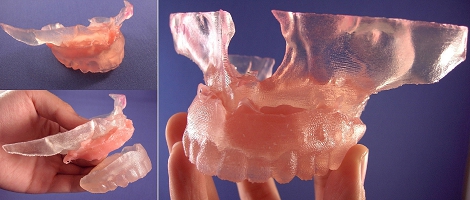 Biomodel of maxilla & denture with soft tissue.
Our BioDental models were featured
in the dental journal
Inside Dentistry
:
Contact us
for a complimentary copy of this article.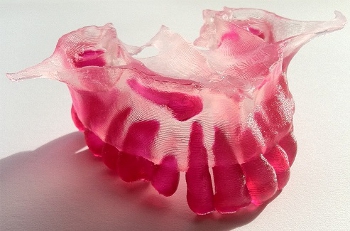 Acrylic Biomodel of maxilla.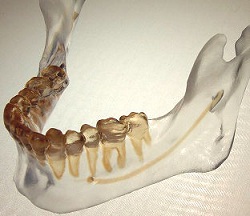 Epoxy Biomodel of mandible with condyles.