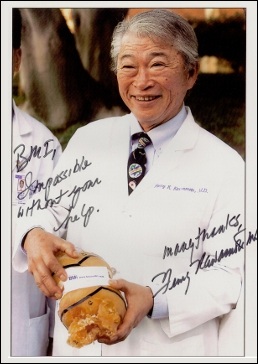 "No matter how good our 3D graphics are, there is nothing like a model in your hands that one can actually play with."
Henry K. Kawamoto, Jr. MD, DDS, FACS
UCLA Medical School
---
"Fabricating a true 3-dimensional model for the patient's skull preoperatively was invaluable in planning the reconstruction. It allowed us to custom design an implant that was a near perfect match for the defect and allowed us to save precious time in the operating room."
Peter J. Taub, MD
Chief, Division of Craniofacial and Pediatric Plastic Surgery
Director, Westchester Medical Center
---
"The high degree of accuracy with the BMI biomedical models enables customized fabrication for craniofacial implants that fit the patient's hard tissue with a very high degree of accuracy, thus reducing adjustment time in the operating room."
William J. Clearihue III, Ph.D.
Anaplastologist, AmericanMedicalProsthetics
Van Nuys, California
---
"Medical models have reduced our operating room time by their accurate prediction of bony anatomy and defects of bone so that there are no surprises during surgery. Anticipation of the defect size and contours have allowed us to harvest the correct bone graft size and shapes and pre-bend reconstruction plates."
Robert E. Marx, DDS
Chief, Division of Oral and Maxillofacial Surgery
University of Miami School of Medicine
---
"Biomedical models have demonstrated an amazing accuracy relating to bone size and contour, enhancing the surgeon's understanding of the anatomic defect, and allowing precise planning and 'rehearsal' of surgery.
"As such, we have found biomedical models very useful in the surgical planning of complex craniofacial reconstructions, and particularly in the development of prefabricated cranial implants. Utilization of Biomedical models has helped us to make the surgical placement of such devices accurate, rapid, and predictable."
George Rudkin, MD, FACS
Asst. Professor, UCLA Division of Plastic and Reconstructive Surgery
Attending Surgeon, Plastic Surgery Section
Greater Los Angeles VA Healthcare System at West Los Angeles